NTPS Capability & Leadership Framework
The Northern Territory Public Sector (NTPS) Capability and Leadership Framework (CLF) provides a common language to support consistent whole-of-sector capability development for the public sector and designed to ensure leadership capabilities and behaviours exist to meet the challenges for the future.
The CLF is a valuable tool that can be used to develop people and strive for continuous improvement.
The framework can be used as a centrepiece for discussion around strengthening the work performance of individuals and teams and to inform decisions around determining and prioritising appropriate professional development and learning. Refer to the following diagram, click on the relevant disc for further information on how the CLF can improve performance in your workplace.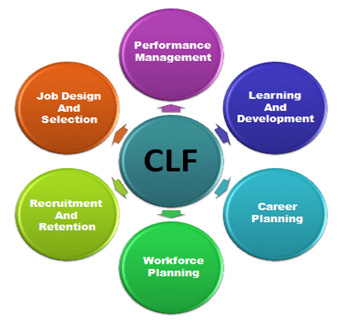 Performance Management
CLF helps managers identify the behaviours required for effective performance. It also assists them work with the employees to develop
these desired behaviours and provides an analytical and communication tool for managers and employees.
Learning and Development
CLF provides a tool to help analyse learning needs and it can assist managers develop their employees through coaching, feedback and
other learning support.
Career Planning:
CLF can help identify employee strengths and weaknesses in terms of their knowledge, skills and personal qualities and those required for
the next logical career step.
Workforce Planning
CLF enables more detailed analysis of the internal and external workforce capability requirements. Any identified gaps can then lead to
appropriate development, recruitment and other strategies.
Recruitment and Retention
CLF can be used to define key selection criteria that are behaviourally based and consistent across the NT Public Sector. It assists the
development of clearer job advertisement and descriptions.
Job Design and Selection
CLF makes it easier for managers to analyse and describe the requirements for a job. It allows them to select the most workable job
design option, e.g. restructuring the job or allocating tasks differently.