Bulletin 3 - Negotiations continue - Issued 20 May 2021
I am pleased to report that negotiations are progressing well with representatives from my office and the Power and Water Corporation meeting with the unions on a weekly basis.
The unions provided their log of claims on 25 March 2021 consisting of over 140 claims. Negotiation involves the parties working through each claim, including the employer's proposals, to understand the issues and identify any cost implications or savings for NT Government. Negotiations have been constructive with all parties actively engaging in discussions with the aim of reaching a proposed new agreement for employees to vote on.
It is usual during negotiations for parties to indicate their 'in principle agreement' to particular claims.
'In principle agreement' means the general terms of a claim, or an employer's proposal, are supported without the complete details having been specified or necessarily agreed upon.
'In principle agreement' is subject to the totality (or all) of the enterprise agreement matters under negotiation being acceptable to the relevant party.
Following the progress made by the parties during their bargaining meetings, on a without prejudice basis, 'in principle agreement' has been provided to the following:
Retaining the Fitness for Work provisions in the Agreement (had proposed to move to policy)
Include the High Voltage Field Operator Allowance provisions for regions into the Agreement (currently provided for in a Commissioner's Determination)
Include the Payment on Promotion provisions for Technical Specialist and Science and Engineering Professionals into the Agreement (currently provided for in a Commissioner's Determination)
Gender transition leave (paid and unpaid)
Include Foster and Kinship Carer provisions into the Agreement (currently provided for in a Commissioner's Determination)
Paid leave to attend pre-natal appointments
A guarantee to return to work after parental leave on a part-time basis for a defined period
3 days paid compassionate leave on the death of an employee's extended family member (e.g. aunt/uncle, niece/nephew)
Lump sum payments and more benefits
I acknowledge that unions and employees may have been expecting proposals for salary increases from the employer, as per previous agreements. However, to support the NT Government's budget reform agenda and to support job certainty for employees, I am proposing:
$4000 over four years (plus employer superannuation guarantee)
more benefits to employees to support work life balance and employees with caring responsibilities (e.g. a range of new leave options, including paid leave)
Inclusion of defence service leave, miscellaneous leave and leave without pay provisions into the Agreement
Further details of my proposals are outlined in Power and Water Corporation Bulletin 2.
The parties will continue to work constructively over the coming months to finalise a proposed new agreement.
Power and Water Salaries and CPI
I have received feedback that the $1000 annual lump sum payment doesn't align with the Darwin CPI. The graph below shows the percentage increases to Power and Water base salaries compared to the percentage increase to the Darwin CPI.
Since 2010 Power and Water salaries have increased by 16.2 percentage points more than the cumulative increases in the CPI over the same period. The graph shows that Power and Water salaries will be maintained for the next four years as well as employees receiving the proposed $4000 (plus superannuation) payment during this time.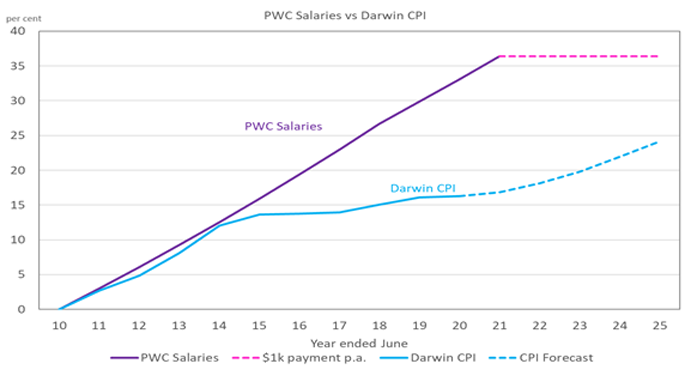 Have your say – your feedback is important
Should you wish to express a view on the proposals or make a suggestion, you can provide your feedback to me by emailing enquiries.ocpe@nt.gov.au
Information on bargaining in general can be obtained at www.fwc.gov.au or you can contact the Fair Work Commission information line on 1300 799 675.
Vicki Telfer PSM
Commissioner for Public Employment
20 May 2021
---
Last updated: 10 May 2022
Give feedback about this page.
Share this page:
URL copied!