Creating mentally healthy workplaces
The Northern Territory Public Service (NTPS) aims to ensure we provide safe and inclusive workplaces.
Providing a safe and fair workplace for employees is also a key focus of the NTPS Champions of Inclusion.
They recognise that mentally healthy workplaces are the foundation to creating a genuinely engaged, inclusive and diverse workforce.
Our vision
The NTPS vision is for safe and inclusive workplaces where all employees are welcomed and supported, can thrive and fulfil their potential.
The framework
The NTPS mentally healthy workplace framework is an important step in prioritising and supporting mental wellbeing in the workforce.
We will achieve this by focusing our efforts on:
raising awareness
building the positives
preventing harm and managing risk
intervening early and supporting recovery.
The image below provides a summary of the framework.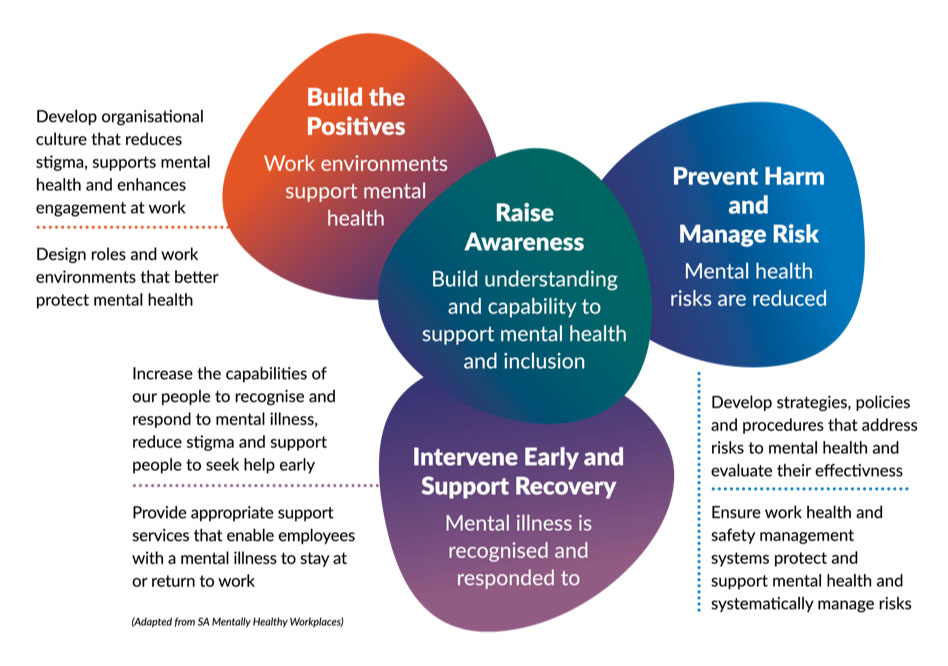 Read the NTPS mentally healthy workplace framework PDF (2.3 MB).
You can also get the printable framework poster PDF (291.0 KB).
Resources to help
Over the next 12 months we will be delivering:
toolkits
resources, and
workforce initiatives.
These are aimed at managing mental health and wellbeing.
They will provide support and guidance for managers and employees.
The framework and its resources will support NTPS agencies to prioritise wellbeing in the workplace.
---
Last updated: 11 October 2021
Give feedback about this page.
Share this page:
URL copied!